Concerts de musique hindoustanie avec Atul Upadhye, violon & Apurba Mukherjee, tabla,  le 1er juin 2018 chez Alain Meyer à Lorry les Metz (20h30) et le 2 juin 2018 au château de Mme de Graffigny à Villers les Nancy (20h30).
---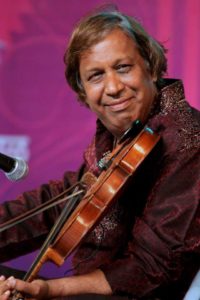 Atulkumar Upadhye :
Le style d »Athulkumar représente un mélange unique de technique indienne et occidentale entre Pandit Shridhar Parsekar et Yehudi Menuhin. Il a développé un sens très personnel de jeu de violon qui mélange les techniques de Gayaki Aang et de Tantkari Tantra ce qui a contribué à faire du violon un instrument solo complet dans la musique indienne.
Atulkumar est reconnu pour son génie technique, son sens de l'improvisation et sa profonde maîtrise des nuances de la musique classique hindoustanie Les mélomanes peut s'attendre à des représentations exaltantes de ce violoniste accompli.
Pt. Atulkumar Upadhye
Atulkumar Upadhye, an ardent violinist – belongs to the revered Pandit Bhaskarbuwa Bakhale Gharana where his talent as a spirited musician was nourished. Drawing inspiration from his father and guru, Prof. Balkrishna Upadhye, a noted violinist himself, Atulkumar's style represents a unique blend of Indian as well as Western technique that of Pandit Shridhar Parsekar and doyen Dr.Yehudi Menuhin. He has developed a unique style of violin playing which blends Gayaki Aang and Tantkari Tantra techniques which has helped in establishing violin as a complete solo-playing instrument in Indian music.
Atulkumar has to his credit, many National level awards and accolades including the prestigious President's Award of All India Radio. The well-known institution Sur Singar conferred on him Surmani. He has performed solo recitals for All India Radio and Doordarshan on many occasions. He has performed in prestigious music conferences all over the world including the famous Sawai Gandharva Music Festival in Pune, Swarazankar Music Festival all over Maharashtra and India, Tansen Samaroh Gwalior, Saptal Festival Ahmedabad, Ustad Alladiya Khan Festival Mumbai, Jitendra Abhisheki Mahotsav in Goa and Nasik, Shankar Darbar Festival in Nanded ,etc to name a few.
Atulkumar, currently heads one of the oldest violin institutes in India having a 60 years glorious tradition. He is also a founder of the "Swarazankar" and "Centre for promotion of music" ,which  is  praised  and has made a big name in the music society in India. Many of his disciples are recognized as performing artists and have won National awards too. His recognition as a teacher par excellence and Guru at the Lalit Kala Kendra of Pune University enhanced his stature as a master musician. He is also well known for his jugalbandi with Shehnai, Bansuri, Sarod, Mohan veena and Sitar. Recently his performances with Sitar maestro Ustad Shahid Parvez , Mohan Veena maestro Pt Vishwa Mohan Bhatt and renowned Shehnai player Pandit Daya Shanker were well acclaimed all over the world. His Fusion concert with Percussion Maestro SIVAMANI is another famous ccombination. Atulkumar carried the fragrance of Hindustani music to U.S.A, U.K, Switzerland, France, Germany, Holland, Belgium, Italy,  and other European countries and gave a memorable rendition winning all-round cheer and applause and hence is a regular foreign visitor.
Atulkumar is known for his versatility, technical brilliance, mature presentation and improvisation, which reflects a deep understanding of the subtle nuances of Hindustani Classical music. Music lovers can look forward to exhilarating and melodious performances by this accomplished violinist.
WebSite – www.atulkumarupadhye.com
_____________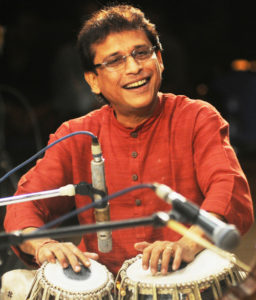 Apurba Mukherjee :
Apurba est un joueur de tabla brillant et talentueux reconnu dans le monde de la musique classique indienne. Disciple de Pandit Shankar Ghosh il s'est largement produit en Inde et à l'étranger accompagnant des musiciens de renom. A noter ses collaboration en Europe avec les frères Chemirani et sa participation a l'album Benares d'Eric Truffaz.
APURBA MUKHERJEE
Apurba is a bright and talented Tabla player in the world of Indian Classical Music. As a disciple of Pandit Shankar Ghosh, he has performed widely in India and abroad, accompanying well known musicians of the country (such as Ustad Saiuddin Dagar, Sri Kushal Das, Sri Kaivalya Kumar Gurav, Sri Partho Sarothi, Smt Purnima Sen, Smt Sanjukta Ghosh, Prof. Mohan Singh, Sri Partha Bose, Sri Sanjoy Banerjee and others) as well as composing and performing experimental music projects with musicians overseas.
Some important Concerts Apurba has performed in India-
Saaz e Bahaar – NCPA (Mumbai), Dr. Basant Rao Deshpande Smriti Sangeet Samaroh (Nagpur, SCZCC, Ministry Of Culture, Govt Of India), Thumri Festival – Sahitya Kala Parishad – New Delhi, Ravi Shankar Centre – RIMPA Festival (New Delhi),Sangeet Bihaan- Sangeet Natak Academy (Patna), West Bengal State Music Academy Annual Music Festival (Kolkata), ITC Sangeet Research Academy (Kolkata),Santarampant Kirvadkar Smriti Shastriya Sangee Mahotsav, SCZCC, Ministry Of Culture, Govt Of India– Nagpur, Ballygunge Maitryee Music Circle (Kolkata), Basant Ritu Ayee (EZCC, Govt.Of.India),Kala Prakash (Varanasi), Sangeet Samaroh (Bhadoi),Moore Avenue Music Festival (Kolkata), Shidram Jadhav Sangeet Samaroh (Solhapur),Salt Lake Music Festival (kolkata), Kalidas Rangalaya ( Patna, organized by Surtaal to celebrate 126th Birth Anniversay of  the late Pandit Kanthe MaharajJi, Inaugurated by the late Pandit Kishen Maharaj Ji), Sadajbaithak (New Delhi), Gangotsav, Sangeet Piyasi, Bagbajar Alapan, Shobhabazar Sangeet Sammelan, Bhowanipur Sangeet Sammelan, St.Xavier's College (kolkata), NTPC (Bihar), Sri Auriobindo Auditorium (Auroville), Sri Aurobindo Ashram (New Delhi and Pondicherry), IIC (New Delhi),India Institute Of Fundamental Research(Bangalore),Krishna Kriti Festival (Hyderabad),Calcutta Television, Tara Bangla, Kolkata TV (Television Shows).
Some important venue (abroad) Apurba has performed:
Besides playing important concerts in India he has also performed in important Festivals and concerts in various Countries of USA, Canada, Europe and Middle East, such as –
Learn Quest Music Conference (Boston, USA),Indian Fine Arts Academy San Diego (San Diego, USA), India Community Center (Rochester, USA),  Raga Mala ,Calgary (Canada), Raga Mala, Edmonton (Canada),House Of India (San Diego, USA),  Indian Performing Arts Of Charlotte (USA), MIT (Boston, USA), International Mugam Festival (Baku, Azerbaijan), Oriental Landscape Festival (Damascus, Syria), Ali Akbar College Of Music, (Basel, Switzerland),Haus Der Kulturen Der Welt(Berlin), Helsinki University (Finland), Tours University and Conservatory (France),Musse Guimet (National Museum for Oriental Art and Culture, Paris),Les Orientales Festival (France), RASA(Holland), Festival – Bombaysers de Lille 3000 (Lille, France), Bose Blue Note Jazz Fest (Paris), Oslo Opera (Norway),London Jazz Festival, Montreal Jazz Festival (Canada), Paleo Festival (Nyon, Swiss), etc.
Workshops and Lecture Demonstrations–
Governor's School in Winston Salem (North Caroline, USA), Governor's School in Raleigh (North Caroline, USA), Conservatory of Angers – France, International Dance Workshop in Metz (France), ,Higher Institute of Music (Damascus, Syria),Workshop and demonstration about Indian Rhythm in Tours Conservatory (France), Workshop in Conservatory Departmental Emile Goue, (Gueret, France), workshops in Auroville (Pondicherry) Association Bhairavi -France, Association Hidole- South France, Anagath (France), etc.
Apurba has demonstrated different Tala for a CD-ROM, « Antara », which is
about the introductions of Indian Classical Music. Maestros like UstadAmjad Ali Khan, PanditBrij Narayan and Smt. ShrutiSadolikar have also performed on this CD-Rom.
Collaboration-
Apurba composed and collaborated with great musicians for different projects, like-with Jamshid Chemirani, Bijan and Keyvan Chemirani, with Prem Joshua, with Erik Truffaz Quartet, with Erik Truffaz and Malcolm Braff for Indian Project  ( BENARES- Cd from EMI-Blue Note), to name a few.
Apurba's style depicts wonderful filigree of thought, imagination, taalim and riyaaz. Musicians all over the country blessed him with bright future.
---
En septembre BHAIRAVI fête ses 10 ans et prépare l'événement qui aura lieu à la Mjc Lillebonne à Nancy le samedi 22 septembre ! Avec des ateliers de danse indienne, de tabla, des spectacles jeune public et des concerts bien sur avec notamment Rohan Dasgupta au sitar.